«Open remote laboratories for Industry 4.0 in IN4LABS project»
Antonio Robles Gómez
Free registration
Abstract
This presentation describes the current design and development of a set of remote laboratories focused on Industry 4.0. These laboratories deal with different topics such as experimentation within the Internet of Things (IoT) paradigm, cybersecurity, robotics, Digital Twin, cloud computing, massive data processing, among others.
Specifically, the presentation is part of the national IN4LABS project, awarded for the period 2022-2024 by the Ministry of Science and Innovation within the Projects aimed at the Ecological Transition and the Digital Transition, of the State Plan for Scientific, Technical and Innovation Research 2021-2023, within the framework of the recovery, transformation and resilience plan. Within the project, the use of open technologies as far as possible for practical activities in engineering and other more professional fields is of great importance.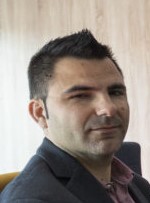 Bio
Antonio Robles Gómez is currently Associate Professor in the Department of Communication and Control Systems at UNED.
Since 2021 he is Deputy Director of Technology of the ETSI Informática. He has been Coordinator of the Official Master's Degree in Computer Engineering at UNED from June 2017 to November 2022.
On the other hand, he has been Secretary of the Master in Communication, Networks and Content Management from April 2010 to December 2013 and of the Master in Computer Engineering from May 2016 to May 2017. He has been a member of the Board of Directors of the IEEE Spain Section since July 2017. In this Board, he has been Secretary-elect for the 2020-2021 and 2022-2023 bienniums. He is also Secretary-elect of the IEEE SP-COM Spanish Joint Chapter since March 2023. He has participated in a large number of R&D projects funded by public calls and has coordinated and/or participated in a large number of international journals (JCRs, SJRs, etc.) and conferences (GGS, CORE, DBLP, IEEE Xplore, etc.).